Guitar and Banjo Lessons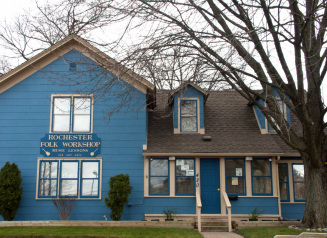 Rochester Folk Workshop
420 East Street
Rochester, MI 48307
(248) 652-0874

Lessons with Vincent Sadovsky at the Rochester Folk Workshop are private and conducted in a relaxed atmosphere.
The lessons are once a week and 30 minutes in length. Lessons are taught Monday through Thursday from 12:00
until 9:00 pm.

---
Every student's interest can be different depending on their goals, level of accomplishment and style of music. The lesson is catered to the individual student.

The music on which the student will be working will be provided at each session as part of the lesson.

Tablature is the primary form of music notation used for guitar and banjo lessons.

A typical lesson may include an approach to reading music, hand positioning, technique, music theory, exercises in rhythm and timing, how to take care of your instrument, playing with other musicians, and most importantly learning and playing songs for your
own enjoyment.

If you want to play to accompany yourself...
If you want to play along with your favorite CD or a friend or two...
If you want to serenade your spouse, or play a beautiful instrumental...
If you want to play those banjo or guitar songs you've always enjoyed...
If you want to play for an audience or just for you...

If you are an acoustic musician already or if you would just like to try your hand at it, join me at the Rochester Folk Workshop.